Check out this screenshot from my Bloomberg terminal. It's showing what may be the most disturbing aspect of our current Housing situation…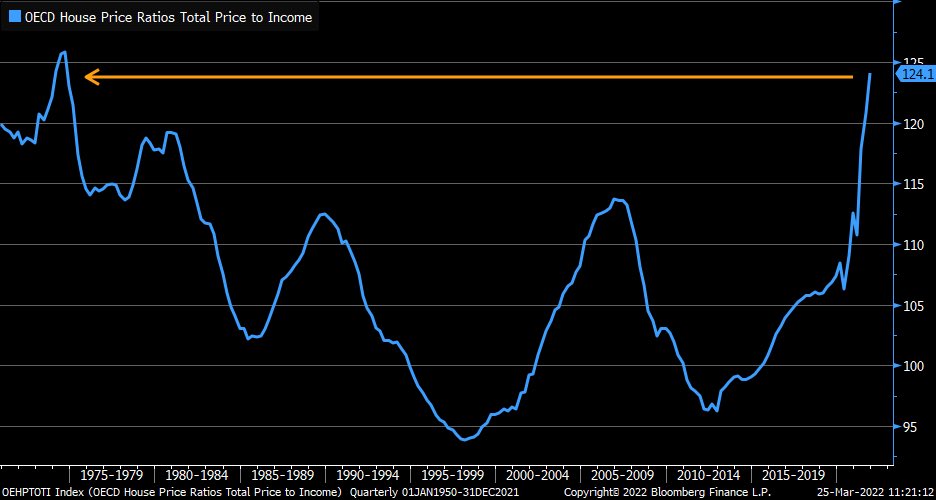 It's the OECD (Organization for Economic Co-operation and Development) Index showing the current house price-to-income ratio. It takes home prices and divides them by average hourly earnings.

Look how far it's climbed… leaving even 2008 in the dust. Overall, home prices rose 24% between November 2019 and November 2021… largely driven by demand from remote workers.  
Now here we are with inflation sapping incomes. As this chart reflects, home ownership is impossible for most Americans, unless we see a serious… or "difficult" (as Fed Chairman, Jerome Powell put it) correction. 
Another aspect is 30-day average fixed mortgage rates climbing daily like it's the year 2000 all over again. It's 6.82% as I type – up almost 40 points from just last week!
Seems all the eager potential home buyer can do is wait… and rent.

Many argue that a "difficult correction" is already happening with prices falling on both new and existing homes. 
In fact, this year we've seen the fastest drop in prices ever recorded in the S&P CoreLogic Case-Shiller Index.
But don't think we're near the bottom yet… most experts anticipate home prices will eventually drop by 20% from highs hit earlier this year.
So, what's this mean for investors? Not to be greedy, but it's my job to look for opportunities in any market. 
And they abound right now. To see how we got here, where we're headed with housing, and exactly where I see big investment potential – go right here.